LACONA'S STORY
WRITE YOUR PART IN IT
The village was founded about 1803 and Lacona was incorporated as a village in 1880. Lacona initially grew as a result of the Watertown and Rome railroad which was an important part of early commerce for the region.
The railroad is a proud part of our heritage and the Lacona depot was restored as both the Lacona and Sandy Creek Village Offices. A variety of historic documents, photos, postcards, and railroad memorabilia are housed here.
As of the 2000 census, there were 590 people, 243 households, and 156 families residing in the village.
Lacona is always looking toward the future: we continue to celebrate our history and retain our close family-oriented community, while also offering a business friendly environment. Surrounded by ever changing views of forests, fields and farms, Lacona offers an idyllic location to live and work.
Our community comes together with our yearly farmers' market featuring local produce, arts, crafts, and musical talent on the South Side of Bridge Side Park and playground; you can visit with neighbors, enjoy the entertainment, and support local businesses.
Join with us as we continue our tradition of building a future together.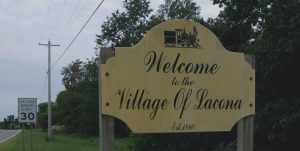 Lyndon Glazier
Mayor
Mayor Lyndon Glazier was recently elected by Lacona voters to a four-year term, beginning April 5, 2021.
Jim Horth
CLERk/TREASURER
Jim Horth handles a multitude of duties including the Village of Lacona Clerk/Treasurer and Records Management Officer.
PEGGY RICE
Village Historian
Peggy Rice was appointed historian for the Village of Lacona in April 2021. She has been updating the collection located at the Sandy Creek History Center. You can find out more about the history of the Villages of Lacona and Sandy Creek, and the Town of Sandy Creek, at their website Sandy Creek History Center